Back in 1986 I came across a new book (at the time) entitled The E-Myth: Why Most Small Businesses Don't Work and What to Do About It by Michael Gerber.
I remember reading the book and thinking about how "revolutionary" it was for owners of small businesses. I found myself going back to it from time to time to help me think strategically. My wife and I both grew up in family-owned businesses and we were very appreciative of the struggles and opportunities of business ownership. So when I read E-Myth, it was like gold to me! However, I found myself needing to review it periodically because it was such a different mindset than I was used to.
Revisiting the E-Myth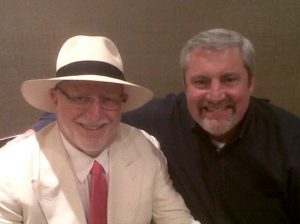 In 2001 the book was republished under the title The E-Myth Revisited; however, the content was relatively unchanged. By that time I had started and sold a business, started a consultancy, and started several non-profit organizations. Still today I go back and review it.
A few years ago, I had the privilege of meeting Michael Gerber and spending some personal time with him. A while back I had the privilege of being with him again. He is an amazing man with amazing insight. His message was the same message he's been preaching since beginning E-Myth in 1977.
Who Starts Businesses?
Most small businesses are not started by entrepreneurs, but by technicians who suffer from an entrepreneurial seizure. Every business owner needs to ask him/herself, "What's my business here to do?" Every business is here to find resolution, completion. We must have the mindset that I am creating a company to sell. I'm in business to create. My business is my creation, my product. If you're truly an entrepreneur, you are a master of business design. Learn to spend more time working "on" your business and less time working "in" your business.

Gerber's 7 Steps to Develop Your Business
I could go on but you probably get the idea. According to Michael, great businesses are not built by genius, but by determination! Every day the great business owners rise above the limitations that everyone else lives under! Michael shared the 7 steps of business development that he wrote about in 1986, the 7 steps that he continues to teach today:
KNOW YOUR PRIMARY AIM IN LIFE. Your business is an extension of YOU! It should serve you and your life goals. So you must know yourself. You must know your primary aim in life.
DEFINE YOUR STRATEGIC OBJECTIVE. What do you want to get out of this business? This is typically things like money, freedom, opportunity, etc. Don't lose sight of this!
CREATE YOUR ORGANIZATIONAL CHART. This is the foundation of building a turnkey business. You must know what each role and function is in your business. You build your systems from this.
DEVELOP YOUR MANAGEMENT SYSTEM. Every problem and every function in your business must be defined from the perspective of a system. Great business owners realize that they manage their businesses by managing their systems. This assures that the product will be consistent, predictable, and profitable.
CREATE YOUR PEOPLE DEVELOPMENT PROCESS. You can't really develop a training program until you have a system. Once you define and document your system, then you can create a training process to empower your people and enable them to succeed.
DESIGN YOUR MARKETING SYSTEM. This is the key to success in every business. A business will not survive without marketing. You must have this!
IMPLEMENT A COMPREHENSIVE SYSTEMS STRATEGY. Learn to see everything in your business as a system. Once everything is systematized, you can walk away from it. You can sell it. You can relax. You can do anything you want to do!
Every business coach (and business owner) today owe a deep sense of gratitude to Michael for opening the door to this conversation. It has been my privilege (and continues to be my privilege) to work with business owners, helping them grow their businesses, create turnkey businesses that give them both time and money, and helping them create sellable businesses.